Card readers are a secure and convenient way to let who you want in and keep the rest out. If you're looking at installing indoor or outdoor card readers on your commercial property, give us a call. We specialize in all aspects of access control systems and will help you find the best solution for your specific needs.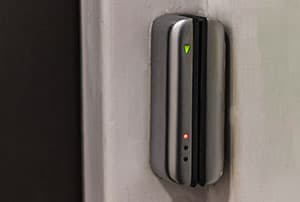 We have the card reader
You are looking for!
Call (727) 791-7990
Proxy Card Readers
Installing proxy card readers on your property can make a big difference in the level of security of your property, and lowers the risk of thefts and other serious financial and informational losses. We install door access control systems that can include the following elements:
Fingerprint scanners
Magnetic door locks
We look at our card readers as three different categories: basic, semi-intelligent, and intelligent card readers. Depending on the levels of security of your property and how complex of a system you're looking for, we'll help you find the kind that's right for you.
Basic card readers will be able to read a card or accept a pin code, and relay that information to a controller that makes the decision on whether or not to unlock the door. Semi-intelligent card readers have the ability to directly control the locks and other functions of the door, but still don't make the decisions on whether or not to unlock.
That's where the intelligent models of access control systems come in. They have the capacity to not only lock and unlock the doors, but also the memory and processing power to make those decisions.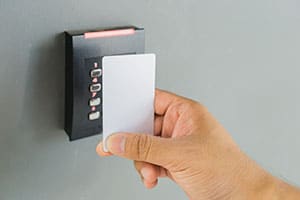 There can be a lot of choices for you when choosing which card readers would do best in your space, and likely we'll end up using a variety of models throughout your facility. You don't have to choose on your own, get in touch with us to schedule your free consultation and one of our access control specialists will help you select the most effective and efficient access control system for your buildings.
Install Access Card Readers
Once we've determined the best card readers for your property, as well as planned out the exact layout of your security system, we'll schedule the installation. Our access control specialists are all employed directly by our company, and are some of the best in the business, with certifications higher than most. With full liability and workers' comp, you'll be able to rest assured that the installation will be completed without a hitch.
Our security equipment is always tested beforehand to ensure it is fully functional before we install it on your property, and we have a full understanding on all the systems we implement. Our staff will then consult with whomever needs to learn the new system and teach you exactly how it works.
Should you have any questions afterwards, just give us a call. We're happy to help you get the most out of it, and you can even call us to re-teach you the system if you forget how to use it for any reason. It all starts with one call to set up a free consultation. Call us now!
We install card readers
On all sizes of properties
Call (727) 791-7990
We install card readers in Tampa, Clearwater, St Petersburg and across the local area.